Welcome to Etch All
We are backed by 40 years of experience & founder of m/s Neel chem India Mr.Arvind Vora M.S. (USA) a fine technocrat in the chemical field of production, R&D and Consultation.We have developed innovative products and unique methods in glass etching industries, we are manufacturing fast acting etching chemical and are designed as per the applications as under
We have all that you require for your Etch needs! Browse from the entire products list for your etching & frosting, be it your hobby or professional service we can provide you with everything to address your Glass Etching. Happy browsing with us!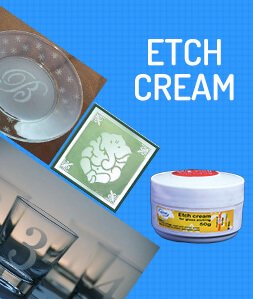 Etch Cream
Etch-cream is paste, designed to etch vertically at 90 degree.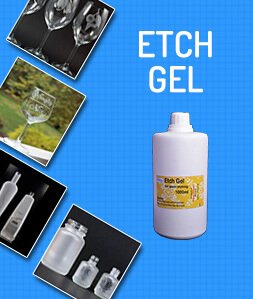 Etch Gel
Etch-gel is semi-liquid. Designed to etch more area at once..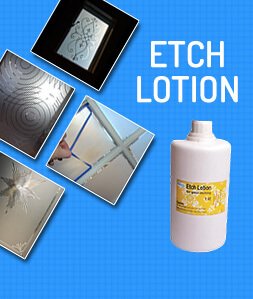 Etch Lotion
Etch-lotion is liquid, designed to give silky frost effect.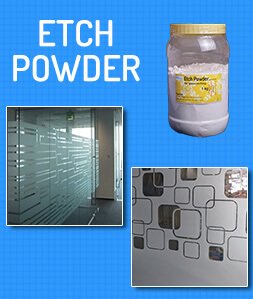 Etch Powder
Etch-powder is fine powder to dissolve in water, before use.
"It is well proven that this is the best new idea to etch with lots of ease and less efforts. No more sand blasting, using no fuming acids, no waxing or no wax boundary on glass edges !!! This product saves you time, effort and a lot of money. Nothing could be easier then this product!!!"
Glass etching is a beautiful art and elegant method of creating a graphic design on the surface of smooth piece of glass. Just as important, it is permanent and will never come off.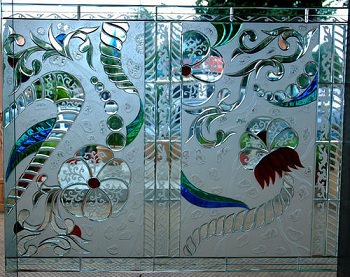 Our products are used in following areas
As a Business
Glass etching also makes an excellent hobby for anyone wanting a creative outlet. The idea that an individual, with a minimum investment in equipment and training, can make beautiful etched and carved glass, It is a new one.
Architectural Products
For Windows, doors or whole entryways in homes,restaurants, hotels, office buildings, banks, airports, government buildings . . . well, you get the idea!
Interior decoration products
Cabinet doors, table tops from dining tables to end tables, room dividers, booth dividers in restaurants, decorative glass for home, office, restaurants and many more ….etc.
Awards, corporate gifts and promotional products
Glassware like glasses, mugs, decanters, carafes, vases, bowls; paperweights, crystal and regular glass sculptures and glass blanks especially created for the purpose of recognizing achievement or expressing appreciation.
Gifts
Almost any glass item found in any gift shop, department store or import shop can be etched. You can create your own line of etched gifts for any specialty shop with standard glass items and custom designs
Signs
Almost any interior sign in any mall, restaurant, hotel, office building, government building, airport, etc. can be etched glass. Etched and carved glass signs are frequently combined with elegant artistic designs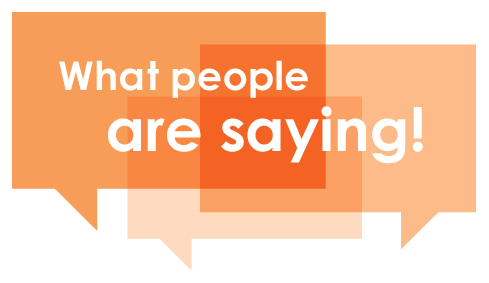 Hi,
I would strongly recommend people to etch their wind screens with the vehicle identification number. It definitely acts as a deterrent. And compared to the cost
of the car, the price of getting it done is virtually nothing.
Manu Bharadwaj
C.E.O
GoIndustry Quippo Valuers & Auctioneers Pvt. Ltd.
(JV Between Goindustry-Dovebid & Quippo Group)
Hi,

Well, I am getting a varied response, but one thing is sure that this numbers get noted easily when anyone looks at the car. Most of them are under the impression that this has been done by machine or engraving, when I tell them they are really surprised.
B V YOGISH
Contact Etch All to Know More