Description
Prevent Car-Theft by VIN etching kit
Believe it or Not! This is the way to Car theft!

No way, we have specially designed vin etching kit to etch Car registration number by vertical etching. This helps to assign a unique identity to a car (VIN- vehicle identification number), which can safe-guard your car against Car-Theft.

This is permanent and tempers proof marking on the car.
A security device to a car, with minimum cost and zero maintenance, compared to other costly devices like Auto Cop (central locking) , GPS tracking gadgets etc.
Advantages of this process it is very easy and simple, one can etch VIN NUMBER with no previous experience, as our etch-cream easy to use.

The concept to etch car number on all 6 glasses is well accepted world-wide. It has reduced car-theft drastically. In India it is being started, mandatory. Here are some initiatives BY WIAA and POLICE department are appealing to car- owners to get it done.
Read this news from  'Mumbai police crime branch Car Stolen' and find the  "review " on our KIT.
For kit-User Please read instructions and follow carefully
Check stencils to make sure that they match to your CAR Number plate OR Vehicle Identification Number (VIN) exactly.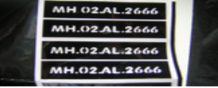 Before applying stencil, Clean all glasses to remove oily dirt. Remove one by one the stencil. Place the stencil against glass of car (1 to 6) and gently press out any air bubbles that may be under stencil.

Apply carefully our etching cream, only to the numbers printed on the stencil. Avoid spillage out of sticker area. Leave etching cream on stencils for 1-2 minutes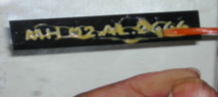 Afterwards, carefully remove excess chemical, peel stencil from the glass. Wipe etched area, clean with water and dry it with cloth. That's all ! . Isn't easy to do it on your own ? –yes you can do it. You have just significantly reduced the chance to being stolen of your car.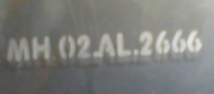 Note: Start placing sticker as a cycle from1 to 6 glasses and remove air bubbles. Start applying cream from 1 to 6 , in a same cycle, Start removing extra chemical formglass(fromyouhavestarted)1st tolastglass, means it is sufficient time to get etched glass. If required Apply baking-Soda solution over sticker to neutralize extra chemical, then pill off stickers one by one in same cycle, then wipe with wet cloth or tissue papers. It takes only 10-20 minute/car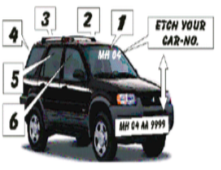 CAUTION: AVOID SKIN CONTACT, IN CASE OF CONTACT USE PLENTY OF WATER AND CONSULT DOCTOR.